All help requests/issues should be reported through the DoIT Research computing RT ticket system. To do this, please submit the form here: HPCF Help Request. If you are not logged into your umbc account you will be asked to do so. This is not the form for HPCF Account Requests, please see the list below. Both of these forms are also linked from the Resources tab.

This is for all questions that relate to system administration, but also all questions on how to use the systems and this website. This also includes requests for installation of software, reporting any unexpected behavior of the system, issues with user behavior, and anything else that warrants attention. This list is monitored both by the system administrators from DoIT (UMBC Division of Information Technology) and by the chair of the governance committee and the HPCF RAs for user support (see below). By reporting issues in this way, you can take advantage of receiving both sys admin attention and user support help, depending on which is more suitable, without the user having to decide what type of problem it is.
How to Contact HPCF
Overview
Account Requests: To request an account on our computing cluster, fill out the Account Request Form. The machines in HPCF are open to the UMBC community, but since they are for research purposes, an account application by students needs to be sponsored by a faculty member. This means that we need to receive account requests from both student and sponsor before an account can be approved. All accounts are subject to approval by the user committee. The accounts are set up under the faculty sponsor, and all storage is viewable to the sponsor.
Consulting Support As part of the user support for the machines in the HPCF, the Center for Interdisciplinary Research and Consulting (CIRC) in the Department of Mathematics and Statistics coordinates more individualized user support. If you are interested in this, please visit circ.umbc.edu and fill out a Service Request Form under the Services Available tab mentioning the keyword "HPCF".
HPCF Point of Contact The point of contact for the UMBC High Performance Computing Facility (HPCF) is the chair of the governance committee, Dr. Matthias K. Gobbert, see below. Contact him for all inquiries on HPCF, its machines, general questions, to submit publications, to inquire about joining the financing of the machine, for feedback and suggestions, and all other questions.
Contact Information
Point of Contact: The chair of the governance committee serves as point of contact for HPCF:
Matthias K. Gobbert
Department of Mathematics and Statistics
University of Maryland, Baltimore County
1000 Hilltop Circle
Baltimore, MD 21250
U.S.A.Office: Math/Psyc 416
Phone: (410) 455-2404
Fax: (410) 455-1066
E-mail: gobbert@umbc.edu
Web:
http://www.umbc.edu/~gobbert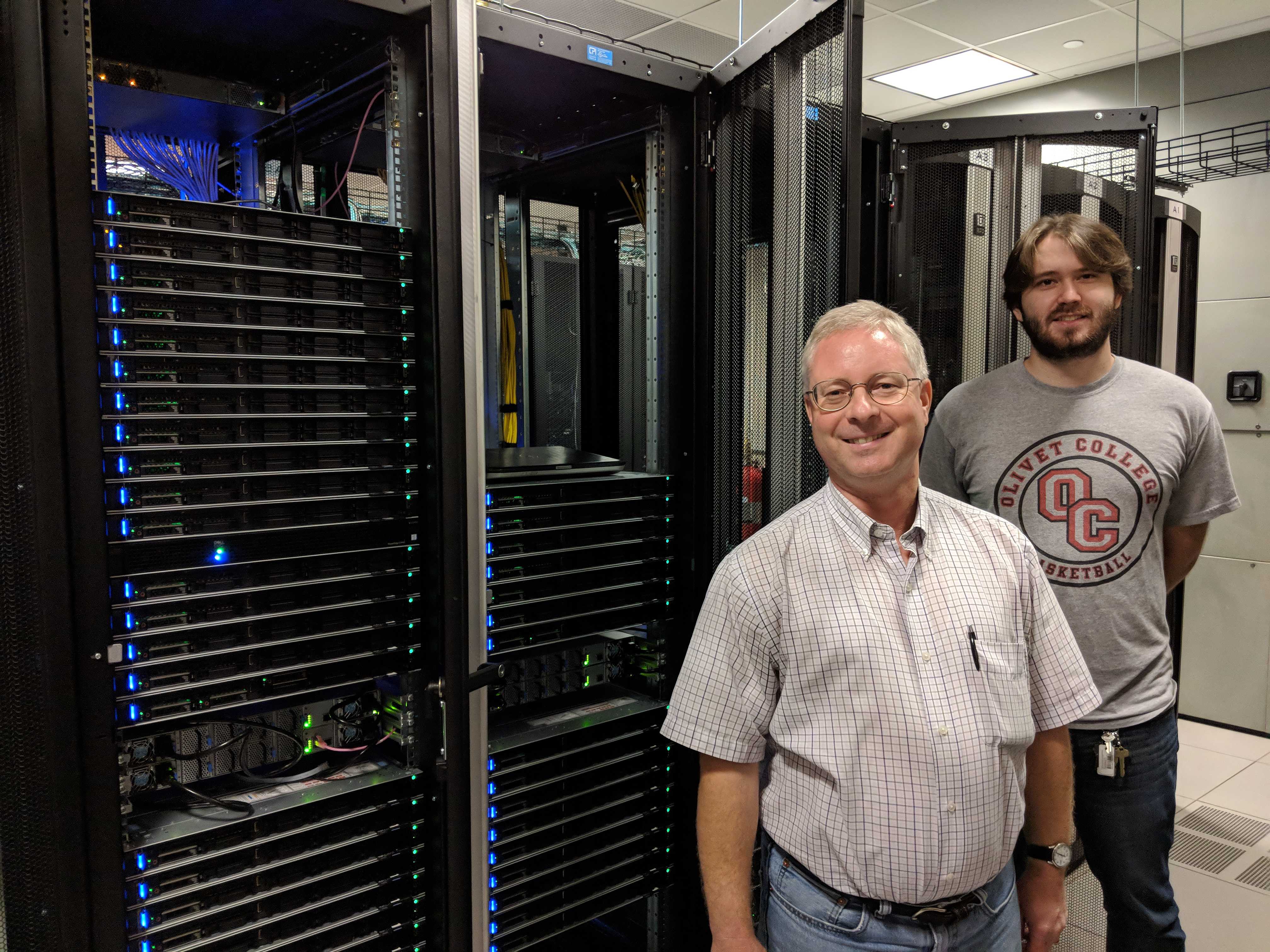 Dr. Gobbert and the 2018 HPCF RA Carlos Barajas in front of the 2018 portion of taki.
Graduate Research Assistants: The point of contact and chair of the governance committee is assisted by graduate research assistants (HPCF RAs).Positions may be available! If interested inquire via Dr. Matthias Gobbert at the contact information above.The RAs are available to provide user support and help with research on the computing cluster. To request support, please e-mail hpc-support@lists.umbc.edu and not the RAs individually.CommitteesHPCF is a community-based, user-driven facility. This is reflected in its governance structure. Ordinarily, the chair of the governance committee serves as point of contact for HPCF (see above), but you are welcome to contact other members of the committee if necessary.The governance committee was established to help the user community develop and decide usage rules for HPCF. Its members at present are
Ruben Delgado (Joint Center for Earth Systems Technology)
Don Engel (Office of the Vice President for Research)
Matthias K. Gobbert (Mathematics and Statistics, Chair)
Curtis R. Menyuk (Computer Science and Electrical Engineering)
Marc Olano (Computer Science and Electrical Engineering)
Larrabee Strow (Physics)
Jianwu Wang (Information Systems)
Claire Welty (Chemical, Biochemical & Environmental Engineering and CUERE)
Meilin Yu (Mechanical Engineering)
Zhibo Zhang (Physics)
We thank former members of the governance committee for their invaluable help in past years:
Lynn Sparling (Physics)
Ian Thorpe (Chemistry and Biochemistry)
2018-2019
Carlos Barajas, Department of Mathematics and Statistics, barajasc@umbc.edu
2017-2018
Kritesh Arora Department of Information Systems,kritesh1@umbc.edu,
Carlos Barajas, Department of Mathematics and Statistics, barajasc@umbc.edu,
Nadeesri Wijekoon, Department of Mathematics and Statistics, nadeesri.wijekoon@umbc.edu,
2016-2017
Jonathan Graf, Department of Mathematics and Statistics, jongraf1@umbc.edu
Sai K. Popuri, Department of Mathematics and Statistics, saiku1@umbc.edu
2015-2016
Jonathan Graf, Department of Mathematics and Statistics, jongraf1@umbc.edu,
Samuel Khuvis, Department of Mathematics and Statistics, khsa1@umbc.edu, (Fall 2015 and Winter 2016)
2014-2015
Jonathan Graf, Department of Mathematics and Statistics, jongraf1@umbc.edu
Xuan Huang, Department of Mathematics and Statistics, hu6@umbc.edu
Samuel Khuvis, Department of Mathematics and Statistics, khsa1@umbc.edu
2013-2014
Andrew Raim, Department of Mathematics and Statistics, araim1@umbc.edu
Xuan Huang, Department of Mathematics and Statistics, hu6@umbc.edu
Samuel Khuvis, Department of Mathematics and Statistics, khsa1@umbc.edu
2012-2013
Andrew Raim, Department of Mathematics and Statistics
Xuan Huang, Department of Mathematics and Statistics
2011-2012
Andrew Raim, Department of Mathematics and Statistics
Xuan Huang, Department of Mathematics and Statistics
2010-2011
Andrew Raim, Department of Mathematics and Statistics
David Trott, Department of Mathematics and Statistics
2009-2010
Andrew Raim, Department of Mathematics and Statistics
2008-2009
Sam Trahan, Department of Physics