Overview
Point of Contact
The chair of the governance committee serves as point of contact for HPCF:
Matthias K. Gobbert
Department of Mathematics and Statistics
Office: Math/Psyc 416
Phone: (410) 455-2404
E-mail: gobbert@umbc.edu
Web: http://www.umbc.edu/~gobbert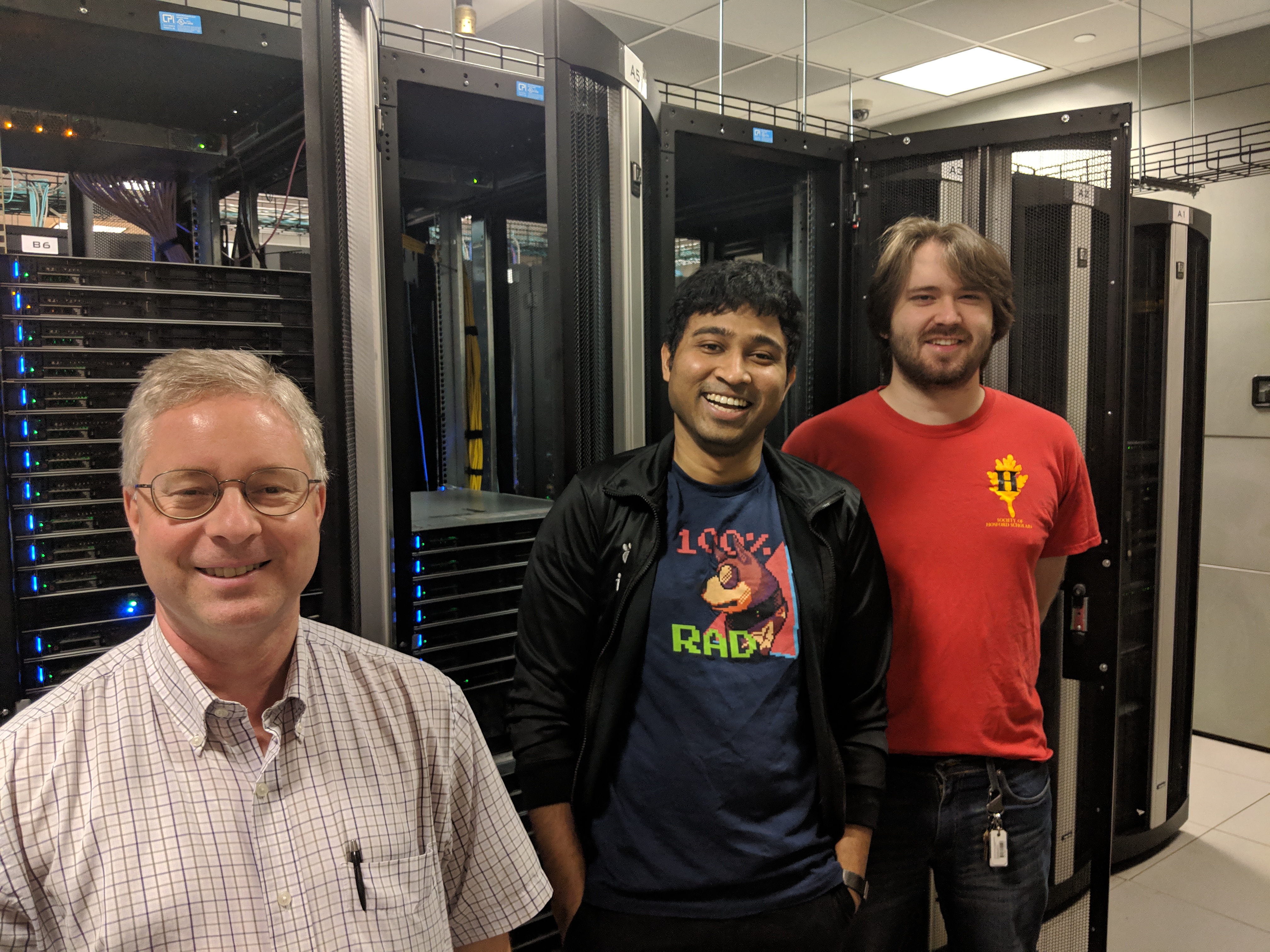 The 2018 portion of taki with Dr. Gobbert and HPCF RAs Reetam Majumder and Carlos Barajas.
Governance Committee
HPCF is a community-based, user-driven facility. This is reflected in its governance structure. Ordinarily, the chair of the governance committee serves as point of contact for HPCF (see above), but you are welcome to contact other members of the committee if necessary.The governance committee was established to help the user community develop and decide usage rules for HPCF. Its members at present are:
Don Engel (Office of the Vice President for Research & DoIT)
Frank Ferraro (Computer Science and Electrical Engineering)
Matthias K. Gobbert (Mathematics and Statistics, Chair)
Daniel Lobo (Biological Sciences)
Larrabee Strow (Physics)
Jianwu Wang (Information Systems)
Meilin Yu (Mechanical Engineering)
Zhibo Zhang (Physics)
We thank former members of the governance committee for their invaluable help in past years:
Ruben Delgado (Joint Center for Earth Systems Technology)
Curtis R. Menyuk (Computer Science and Electrical Engineering)
Marc Olano (Computer Science and Electrical Engineering)
Lynn Sparling (Physics)
Ian Thorpe (Chemistry and Biochemistry)
Claire Welty (Chemical, Biochemical & Environmental Engineering and CUERE)
Graduate Research Assistants
The point of contact and chair of the governance committee is assisted by graduate research assistants (HPCF RAs). Positions may be available! If interested inquire with Dr. Matthias Gobbert at the contact information above. The RAs are available to provide user support and help with research on the computing cluster. To request support, please fill out the HPCF Help Request form; do not contact the RAs directly.
2020-2021
Carlos Barajas, Department of Mathematics and Statistics, barajasc@umbc.edu
Reetam Majumder, Department of Mathematics and Statistics, reetam1@umbc.edu
2019-2020
Carlos Barajas, Department of Mathematics and Statistics, barajasc@umbc.edu
Reetam Majumder, Department of Mathematics and Statistics, reetam1@umbc.edu
2018-2019
Carlos Barajas, Department of Mathematics and Statistics, barajasc@umbc.edu
Reetam Majumder, Department of Mathematics and Statistics, reetam1@umbc.edu
2017-2018
Kritesh Arora Department of Information Systems
Carlos Barajas, Department of Mathematics and Statistics
Nadeesri Wijekoon, Department of Mathematics and Statistics (Fall 2017)
2016-2017
Jonathan Graf, Department of Mathematics and Statistics
Sai K. Popuri, Department of Mathematics and Statistics
2015-2016
Jonathan Graf, Department of Mathematics and Statistics
Samuel Khuvis, Department of Mathematics and Statistics (Fall 2015 and Winter 2016)
2014-2015
Jonathan Graf, Department of Mathematics and Statistics
Xuan Huang, Department of Mathematics and Statistics
Samuel Khuvis, Department of Mathematics and Statistics
2013-2014
Andrew Raim, Department of Mathematics and Statistics
Xuan Huang, Department of Mathematics and Statistics
Samuel Khuvis, Department of Mathematics and Statistics
2012-2013
Andrew Raim, Department of Mathematics and Statistics
Xuan Huang, Department of Mathematics and Statistics
2011-2012
Andrew Raim, Department of Mathematics and Statistics
Xuan Huang, Department of Mathematics and Statistics
2010-2011
Andrew Raim, Department of Mathematics and Statistics
David Trott, Department of Mathematics and Statistics
2009-2010
Andrew Raim, Department of Mathematics and Statistics
2008-2009
Samuel Trahan, Department of Physics