Cloudera Cluster Manager
Cloudera Manager is used in managing applications on the big data cluster access, to the web UI of applications and used to track the job process.
How to Access the Cloudera Manager for the Big Data Cluster.
Step 1: Open a ssh connection to the cluster with the appropriate port-forwarding. See the connecting to the cluster page here
Note: In the meantime, the cluster administrator will have to provide users the login credentials to access the Cloudera Manager and other UIs(i.e Hue). Click here to submit a request.
Step 2: Follow the steps in on how to access the Web UI for the cluster here, and use this URL: http://mgt.hadoop.umbc.edu:7180/cmf/login. on the Firefox browser.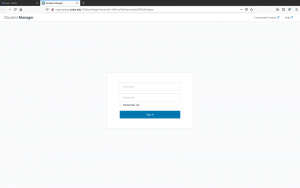 Step 3: Step 2: Input username and password provided by the cluster administrator, this is NOT your UMBC ID.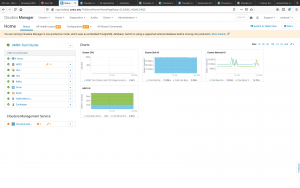 Step 4: Clicking on the individual applications by the left plane ( i.e Hive, Hue, Spark) will give access to the available functionalities ( i.e launch Web UIs, track job processes) of each application.